Links & References
Research on Play Therapy
Play Therapy Outcome Research Database: "http://evidencebasedchildtherapy.com/"
Papers and articles
Short, J. (n.d.) Play Therapy: working creatively with children. InPsych June 2015. Retrieved from website of the Australian Psychological Society.
Bratton, S., Ray D., Rhine, T., Jones, L. (n.d.) The Efficacy of Play Therapy and Filial Therapy with Children:
Summary of the Meta-Analytic Findings, which summarises the findings of: Bratton, S., Ray, D., Rhine, T., & Jones, L. (2005). The efficacy of play therapy with children: A Meta-analytic review of the outcome research. Professional Psychology: Research and Practice, 36(4), 376-390.
Lin, Y., Bratton, S. C. (2015).A meta-analytic review of child-centered play therapy approaches. Journal of Counseling and Development. 93(1), 45-58
Truneckova, D., & Viney, L.L. (2015). Therapeutic relationships in child-centered personal construct psychotherapy: experiments in constructions of self. University of Wollongong Research Online. Retrieved from: http://ro.uow.edu.au/cgi/viewcontent.cgi?article=2884&context=sspapers
Books on Play Therapy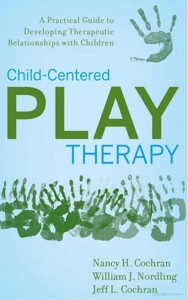 "Dibs in Search of Self" by Virginia Axline (Penguin, 1990).  See here.
Axline, V. M. (1974).  Play Therapy. Ballantine.  See here.
Baggerly, J. N., Ray, D. C., Bratton, S. C. (2010).  Child Centered Play Therapy: The Evidence Base for Effective Practice. Wiley.  See here.
Cochran N. H., Nordling W. J. & Cochran J. L. (2010). Child Centred Play Therapy: A Practical Guide to Developing Therapeutic Relationships with Children.  Wiley.  See here.
Landreth, G. L. (2002).  Play Therapy: the Art of Relationship.  Brunner Routledge.  See here.  A third edition (2011) now exists: see here.
Ray, D. C., (2011). Advanced Play Therapy. Routledge.  See here.
Click here for a list of books at The Association for Play Therapy (USA).
General books and websites of interest
Center for Play Therapy: http://cpt.unt.edu
National Institute for Relationship Enhancement: http://www.nire.org
Family Enhancement & Play Therapy Center: www.play-therapy.com
Child Trauma Academy: www.childtrauma.org
Association of Prenatal and Perinatal Psychology and Health: www.birthpsychology.com
Play Therapy Associations
Australian Play Therapists Association: http://www.apta.asn.au/.
Australasia Pacific Play Therapy Association: www.appta.org.au
Association for Play Therapy (USA): www.a4pt.org
British Association for Play Therapy: www.bapt.info
Irish Play Therapy Association: www.ipta.ie
Play Therapy Professional Development
Play Therapy Online Training: https://www.playtherapyonlinetraining.com/